GT011 Game of Thrones Lady Melisandre of Asshai cosplay costume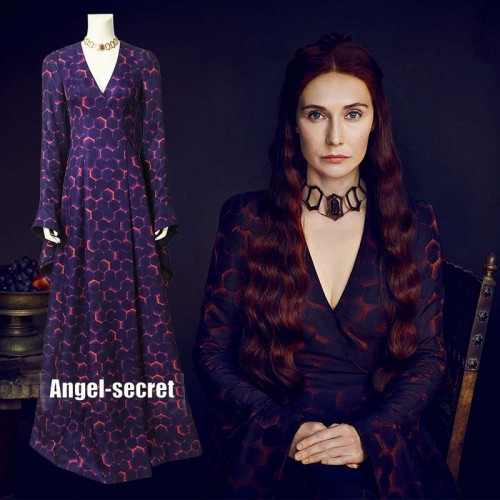 GT011 Game of Thrones Lady Melisandre of Asshai cosplay costume
Item specifics
Condition:
Brand:

N/A

Material:
Polyester
Size Type:
Regular
Color:Purple
Size (Women's):
Costume make size
Pattern:
N/A
Occasion:
Formal
Style:
long dress
Dress Length:
Full length
Country of Manufacture:
China
Sleeve Style:
Long Sleeve
Costume make size


Our

production turnaround time

for a custom printed fabric is approximately 15

business days.
Shipping times will vary depending on your location and your chosen method:
Standard (1-3 weeks)
Express (5 business days)
*Please note that Express shipping does not affect your order's production time (average 10 business days).
Melisandre, often referred to as the Red Woman, was a Red Priestess in the religion of R'hllor, the Lord of Light, and had been a close counselor to Stannis Baratheon in his campaign to take the Iron Throne. Following Stannis Baratheon's death at the Battle of Winterfell, she revived Jon Snow after he was murdered by various members of the Night's Watch, believing him to be the Prince That Was Promised. She continued to serve Jon as an advisor until she was banished from the North following the Battle of the Bastards, when Jon learned that she had sacrificed Shireen Baratheon and countless innocent people while in Stannis's service. However, she later united with the newly crowned King in the North and Daenerys Targaryen, believing that they both have pivotal roles to play in the Great War. When the army of the dead descended, she returned to Winterfell, wielding the power of R'hllor during the Battle of Winterfell. With the living victorious, Melisandre finally welcomed death.