DP003 Marvel Comics Dead pool 2 Neena Thurman Domino Reynolds X-Force cosplay costumes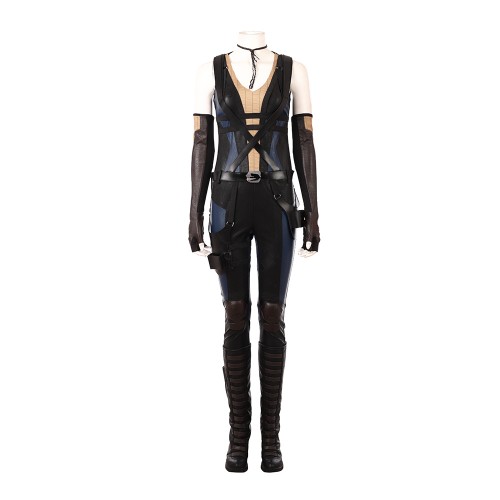 DP003 Marvel Comics Dead pool 2 Neena Thurman Domino Reynolds X-Force cosplay costumes
DP003 Marvel Comics Dead pool 2 Neena Thurman Domino Reynolds X-Force cosplay costumes
Angel Secret new categories!
The hero categories are coming now!
The first hero is Dead pool2! What is the wonderful movie! This is my favorite Movie!!
Please leave us chest, waist, hips, height from shoulder to toe, height from head to toe, shoulder to shoulder, armhole, biceps, and arm length
We need 14-20 days to make the item + 1-4 weeks for delivery.
Domino (Neena Thurman) is a fictional character appearing in American comic books published by Marvel Comics. The character is best known as a member of the mutant team X-Force. Created by writer Fabian Nicieza and artist/co-writer Rob Liefeld, Domino made her first full cover story appearance in X-Force #8 (March 1992) as an original member of the Wild Pack team led by the mutant Cable.
In addition to her exceptional marksmanship and hand-to-hand skills, Domino possesses mutant probability-altering powers, similar to those of the mutant Longshot. She often uses her skills as a mercenary, but has also been the partner, confidante, and love interest of the superhero Cable, a lieutenant in his militant group X-Force, and a member of the X-Men.
Domino is played by Zazie Beetz in the film Deadpool 2.
Apart from being a mainstay character in the first series of X-Force, Domino has had two limited self-titled series, one of which had her teaming with Puck against Lady Deathstrike and Donald Pierce. The second revealed her childhood.
The first female Domino to appear in Marvel comics was not the genuine Neena Thurman. A Domino imposter, a mutant shapeshifter named Copycat, first appeared in The New Mutants #98 (February 1991), and continued to assume Neena's role in X-Force for a time. The real Domino was first published in the main flashback story recalled by Cable in X-Force, vol. 1 #8 (March 1992). Her current narrative, brief cameo, second appearance was published on the last page of X-Force #11 (June 1992).
She has also appeared in a number of issues of Cable & Deadpool (Marvel, 2004/2006 series),[2] and joined the first Wolverine-led X-Force as of X-Force, vol. 3 #8 (December 2008).
Domino appeared in her own three-issue miniseries with Wolverine entitled X-Force: Sex and Violence, written by Christopher Yost and Craig Kyle and drawn by Gabriele Dell'Otto.[3] The story centers upon Domino and Wolverine's mission to resolve a situation from Domino's recent past.[3] Chris Yost has said, "It's a chance for us to go in-depth into a couple of the characters. In the story, Domino has a hit put out on her and Wolverine finds out about it. Essentially, it's the two of them going out to get that hit removed."[3] Yost adds that the characters are up against the worst killers on the planet.[4]
Domino was part of the main roster in Cable and X-Force (by Dennis Hopeless and Salvador Larroca), from 2012 to 2014.[5][6]
Domino guest stars in the 2014 X-Force, beginning in issue #7.[7]
The woman who would become known as Domino is actually the result of a top-secret government breeding program intended to develop the perfect weapon. Domino was the only test subject to survive, but her "luck" power was deemed a failure at meeting the project's goals. Her biological mother broke her out of the project and left her with Father Rudolpho Boschelli in the Church of the Sacred Heart in Chicago.
Domino eventually left the Church and became a mercenary. One of her first jobs was to stop "Operation: Jericho" which was a remote-controlled warbot project. Domino wrecked the robot, but in the process fried the mind of the soldier controlling it. She was then assigned to guard the hard working and innovative Dr. Milo Thurman, whose analytical ability made him too dangerous for the government to let roam free. Somehow, Domino and Thurman fell in love and were married. Due to Thurman's love of Dante's Inferno, he called Domino "Beatrice". The two separated after a raid on the facility by AIMmembers, with Milo believing Domino had been killed during the altercation.[8]
Domino helped found the mercenary band Six Pack, which introduced her to the mutant time-traveler Cable. Domino worked with the Six Pack for some time, taking on many missions for cash. The Six Pack was very brutal in their adventures, often shooting down entire crowds of people who got in their way. The team, also known as the Wild Pack, went on missions in Iran,[9] and participated in a raid on a HYDRA base,[10] which Domino participated in. During her time with the Wild Pack, she had her first confrontations with Stryfe (Cable's evil clone) in Afghanistan and Uruguay.[9]
When Cable became the leader of the New Mutants following their break from the X-Men, a mutant named Copycat impersonated Domino[11] and joined as his field leader and stayed with the team as they changed from the New Mutants to X-Force. When it was revealed that the real Domino was actually a prisoner of the supervillain Tolliver for over a year,[12] X-Force rejected Domino's imposter and, with Cable's reassurances, planned to rescue the real Domino and welcome her onto the team.
Meanwhile, the real Domino learned of Tolliver's destruction of X-Force's Adirondack base and planned her escape.[13] Cable found her at Tolliver's Italian home, along with her apparently murdered double.[14] Domino was accidentally freed by Deadpool, whom she shot. Cable sent her to find X-Force. She escaped on Tolliver's helicopter and survived a fall from Tolliver's helicopter into the sea.[15] She found X-Force and joined the team.
Domino stayed with the team for most of its existence, becoming its de facto leader when Cable left the team on several occasions. For a while, she was a prisoner of the forces of Bastion, which severely affected her mentally and physically. During X-Force's existence, Domino had several solo adventures. During one, she was forced to kill her mentally ill, ex–Six Pack partner Grizzly.[16]
When X-Force briefly disbanded, Domino joined the X-Corporation. Tag your photos using #dp003marve on Twitter or Upload them here!