DP004 Marvel Comics Dead pool 2 Negasonic Teenage Warhead X-Force cosplay costumes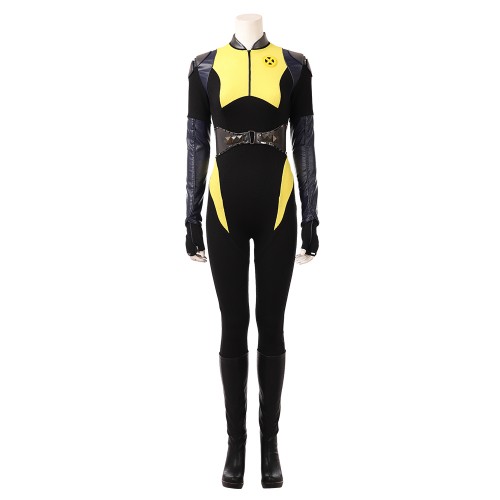 DP004 Marvel Comics Dead pool 2 Negasonic Teenage Warhead X-Force cosplay costumes
DP004 Marvel Comics Dead pool 2 Negasonic Teenage Warhead X-Force cosplay costumes
Angel Secret new categories!
The hero categories are coming now!
The first hero is Dead pool2! What is the wonderful movie! This is my favorite Movie!!
Please leave us chest, waist, hips, height from shoulder to toe, height from head to toe, shoulder to shoulder, armhole, biceps, and arm length
We need 14-20 days to make the item + 1-4 weeks for delivery.
Ellie Phimister (colloquial: Negasonic Teenage Warhead) is a fictional character appearing in American comic books published by Marvel Comics. The character was created by Grant Morrison and Frank Quitely, and named after the song "Negasonic Teenage Warhead" by Monster Magnet.[1] The character is a mutant who displays telepathic and precognitive powers, and is a student of Emma Frost.
The character appears in the 2016 film Deadpool and its 2018 sequel Deadpool 2, albeit with a different look and a change in the character's comic book powers to high-impact kinetic charges, much like New Mutants/X-Men member Cannonball. This was done through a deal between 20th Century Fox and Marvel Studios, which allowed Marvel Studios to use Ego the Living Planet in the 2017 film Guardians of the Galaxy Vol. 2 in exchange for changing the character's powers.[2] In Deadpool and Deadpool 2, Negasonic Teenage Warhead is a member of the X-Men, portrayed by actress Brianna Hildebrand; she is the first LGBT character to star in a superhero film that openly features a same-sex couple.[3]
In New X-Men #115, Ellie possesses a array of psychic powers; including, telepathy, telekinesis and precognition.
In X-Force #24, Ellie is the only person aware that Proteus has possessed Destiny and she shows her precognitive abilities announcing to Selene the imminent return of her victorious inner circle.[18]
During the Deadpool & the Mercs for Money Vol. 2 series, Ellie showcased a host of new abilities she previously lacked before, creating a house and home for herself out of thin air with her thoughts. She is able to overpower a host of skilled, military or uniquely trained mercenaries in hand-to-hand combat, as well as showcasing superhuman physical prowess beyond the norm, battling the likes of Scorpia and Titania.[19]
Over the series, Ellie shows even greater amounts of power and capabilities within her. She has the ability to harness, generate and absorb radioactive energy into herself, allowing herself to achieve feats such as fabricating objects out of thin air like clothes or shelter and levitate people or objects with her mind.[20]
It is later revealed that Ellie's newfound power stems from an ability to manipulate reality at a quantum level. In an alternate dystopian future, Negasonic used her powers to alter the Terragen cloud to make it harmless to mutants, further exhibition of this latent power stems to rearranging matter and energy into different shapes and forms at will; such as morphing Jack Chain's Darkforce binds into butterflies, alternating Inferno's fire into flaming monkeys, mentally disassembling Domino and Gorilla-Man's guns and creating energized duplicates of herself at will.[21]ded, Domino joined the X-Corporation.
above information from https://en.wikipedia.org/wiki/Negasonic_Teenage_Warhead