DI002 Ralph Breaks the Internet Wreck-It Ralph cosplay costume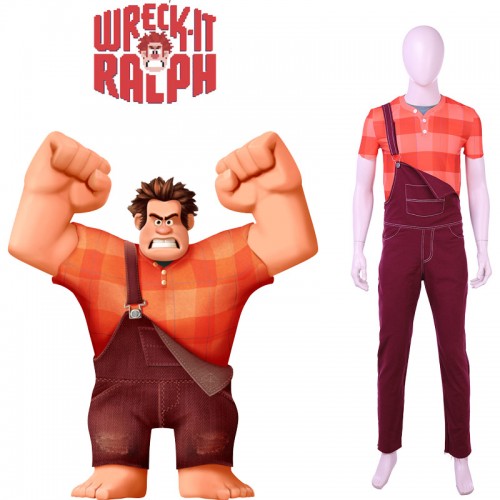 DI002 Ralph Breaks the Internet Wreck-It Ralph cosplay costume
You are buying full set costume included the t-shirt, pants, and vest.




Ralph Breaks the Internet
Ralph Breaks the Internet

Theatrical release poster

Directed by
Produced by
Clark Spencer
Screenplay by
Story by
Starring
Music by
Henry Jackman[2][3]
Cinematography

Nathan Detroit Warner (layout)
Brian Leach (lighting)

Edited by
Jeremy Milton

Production
companies

Distributed by
Walt Disney Studios Motion Pictures

Release date

Running time

112 minutes[5]
Country
United States
Language
English
Budget
$175 million[5]
Box office
$258.9 million[5]

Ralph Breaks the Internet (originally titled Ralph Breaks the Internet: Wreck-It Ralph 2) is a 2018 American 3D computer-animated comedy film produced by Walt Disney Animation Studios and distributed by Walt Disney Pictures. It is the sequel to the 2012 film Wreck-It Ralph as well as Disney's 57th feature-length film. The film was directed by Rich Moore and Phil Johnston, written by Johnston and Pamela Ribon, and executive-produced by John Lasseter, Chris Williams, and Jennifer Lee.[a] It features John C. Reilly, Sarah Silverman, Jack McBrayer, Jane Lynch, and Ed O'Neill reprising their roles from the first film, with Alan Tudyk returning to voice a new character, alongside new additions to the cast including Gal Gadot, Taraji P. Henson and Alfred Molina.

Talks for a Wreck-It Ralph sequel began in October 2012, and went through three different scripts before settling on the final plot. The film was officially announced in June 2016, with much of the original cast confirming they had signed on, with new members being added in 2018. It marks the first feature-length theatrical sequel from Walt Disney Animation Studios since Fantasia 2000 in 1999, which was a sequel to the 1940 animated film Fantasia. It is also the studio's first animated sequel to be created by the original film's writing/directing team.[1]:15

Ralph Breaks the Internet had its world premiere at the El Capitan Theatre in Los Angeles on November 5, 2018, and was released in the United States on November 21, 2018. The film has grossed over $258 million worldwide and has received positive reviews from critics, who called it a "worthy successor" and praised the animation, humor, characters, and storyline, as well as the vocal performances of Reilly and Silverman.[8][9] The film received a nomination for Best Animated Feature Film at the 76th Golden Globe Awards. Directors Rich Moore and Phil Johnston said that a Ralph Breaks the Internet spin-off film focusing on the Disney Princesses could be made depending on the audience's response and "if there's a good story to be told".[10]